Cyber Monday starts now! Get
20% off
and a
FREE Cyber Bonus Pack
. Plus be entered to win an
autographed poster!
Offer details here.
Strange Impersonation
Please choose a format above.
Nora is a brilliant and beautiful scientist on the verge of an important scientific breakthrough. 
Unfortunately, she's also a Female Lady Girl Woman, and the pressure mounts for her to abandon her career before her man falls for the ineffectual-but-available lab assistant.
Enjoy mystery, mayhem, and mistaken identities with Bridget and Mary Jo in Strange Impersonation! 
 
Written by: Bridget Nelson, Mary Jo Pehl
Contributing writers: Zachary Shatzer, Karyn (Ostrem) Vander Kooy
Digital Video file formats
Legacy devices (269.06 MB)
Burnable DVD Image (4 GB)
Digital HD Video file formats
Legacy devices (269.06 MB)
Burnable DVD Image (4 GB)
All digital products you purchase from RiffTrax.com are DRM-free, can be played across a large variety of devices, and are yours to keep ... forever! Even if you have a hard drive meltdown, you can always log back into the site and re-download all of your previous purchases.
For our Download and Stream products, you can stream the product to your computer or to your TV via Chromecast, or download to a device that can play the MP4 file format. For more information on our video formats, please see this KB article.
Just the Jokes are simply MP3 files which are DRM free and can be enjoyed on any device that can play this common audio format.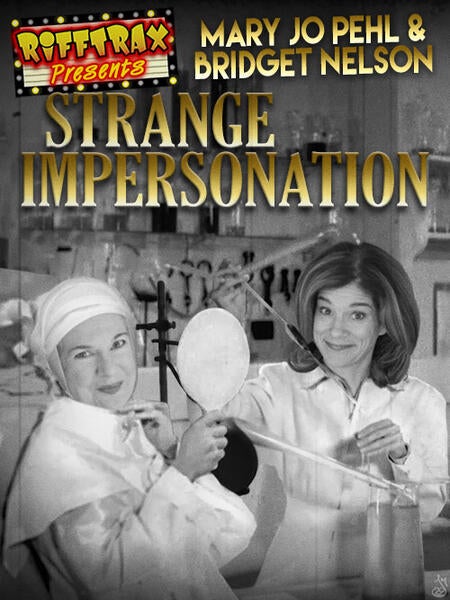 Riffed By