Happy Presidents' Day from RiffTrax! Get 15% off riffs with coupon code FOUNDERS (discount excludes gift cards)
RiffTrax Live: Plan 9 From Outer Space
Please choose a format above.
The stars of Mystery Science Theater 3000 meet the worst movie of all time to bring you RiffTrax Live. Join Mike Nelson, Kevin Murphy and Bill Corbett live and onstage at the historic Belcourt Theater in Nashville as they riff along hilariously to Ed Wood's classic B-movie blunder Plan 9 from Outer Space. Hosted by internet superstar Veronica Belmont, and featuring geek troubadour Jonathan Coulton, RiffTrax Live offers non-stop music and laughs. Also included is Flying Stewardess, a 40's travel short that gets subjected to the guys' signature brand of rapid-fire riffing.
Join Mike, Kevin, Bill and the gang for a truly magical night of comedy and cult classics with RiffTrax Live: Plan 9 From Outer Space, available now for the first time in high definition!
Bonus features include a behind the scenes slideshow and uncut versions of the "commercials" that aired during the show.
Digital Video file formats
Legacy devices (463.3 MB)
Download to Burn (DVD Image) (7.83 GB)
Digital HD Video file formats
Legacy devices (463.3 MB)
Download to Burn (DVD Image) (7.83 GB)
All digital products you purchase from RiffTrax.com are DRM-free, can be played across a large variety of devices, and are yours to keep ... forever! Even if you have a hard drive meltdown, you can always log back into the site and re-download all of your previous purchases.
For our Download and Stream products, you can stream the product to your computer or to your TV via Chromecast, or download to a device that can play the MP4 file format. For more information on our video formats, please see this KB article.
Just the Jokes are simply MP3 files which are DRM free and can be enjoyed on any device that can play this common audio format.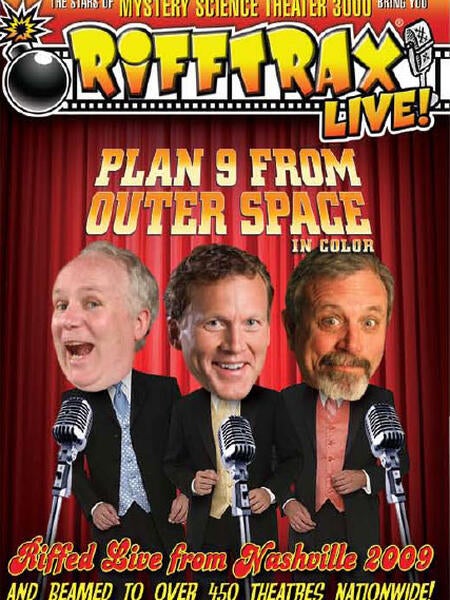 Riffed By