RiffTrax Live: Octaman (PRE-ORDER)
Please choose a format above.
PLEASE NOTE: THIS IS A PRE-ORDER of the Digital Video products! You can pre-order the Physical Media versions at our BackerKit store.
Deep in the Mexican jungle, a legendary creature lurks in a radioactive swamp. Is it a man? Is it an octopus? No, it's OCTAMAN! Okay, it's a man in an octopus suit, but he's really angry and decides to go on a light killing spree.
A scientific expedition sets out to study this atomic mutant and stop it before it kills again. They're not very good at it, since Octaman kills quite a lot — probably because THE DUMB SCIENTISTS KEEP STEALING ITS BABIES! It seems there's no stopping the monster until it develops a crush on the plucky lady scientist Susan Lowry (Pier Angeli) and does what all mutant sea creatures like to do - it knocks her out and carries her away. Will the rest of the team be able to rescue Susan before Octaman picks them all off one by one? Looks pretty doubtful!
Directed by the writer of Creature From the Black Lagoon, and featuring costumes and effects by a young Rick Baker, Octaman is a wonderfully awful rubber monster B-movie.
Something you should know:
Expected release date: May 31st, 2019
Digital Video file formats
Digital HD Video file formats
All digital products you purchase from RiffTrax.com are DRM-free, can be played across a large variety of devices, and are yours to keep ... forever! Even if you have a hard drive meltdown, you can always log back into the site and re-download all of your previous purchases.
For our Download and Stream products, you can stream the product to your computer or to your TV via Chromecast, or download to a device that can play the MP4 file format. For more information on our video formats, please see this KB article.
Just the Jokes are simply MP3 files which are DRM free and can be enjoyed on any device that can play this common audio format.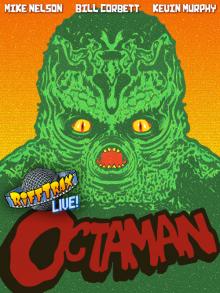 Riffed By