Coffeehouse Rendezvous
Please choose a format above.
The youth of today, no longer content to roll a hoop with a stick, play endless hours of mumbly peg, or work a lathe at a factory 14 hours a day for just pennies, need something to occupy them. Crime sprees are not the whole answer. No, they need a place where they can rap, just let it all hang out, encounter one another, preferably over terrible boiled coffee. The short Coffeehouse Rendezvous makes a strong case that what these kids need is a coffeehouse rendezvous.
Mike, Kevin and Bill remain unconvinced.
NOTE: This is our second experimental DRM-free short! Use it anywhere, anytime! Or just buy it and throw it away - who cares - it's DRM free! That's right, we hate DRM just as much as you do (we blame The Man), and so we offer this experiment in total freedom. We ask (timidly, hat in hand, our eyes moist with grateful tears) that you not post it or pass it on. If this is successful, there will likely be more DRM-free video content on RiffTrax in the future.
2017 UPDATE: Our DRM (Digital Rights Management) trial was successful and we have 
Digital Video file formats
Legacy devices (54.82 MB)
Commentary (mp3) (5.69 MB)
All digital products you purchase from RiffTrax.com are DRM-free, can be played across a large variety of devices, and are yours to keep ... forever! Even if you have a hard drive meltdown, you can always log back into the site and re-download all of your previous purchases.
For our Download and Stream products, you can stream the product to your computer or to your TV via Chromecast, or download to a device that can play the MP4 file format. For more information on our video formats, please see this KB article.
Just the Jokes are simply MP3 files which are DRM free and can be enjoyed on any device that can play this common audio format.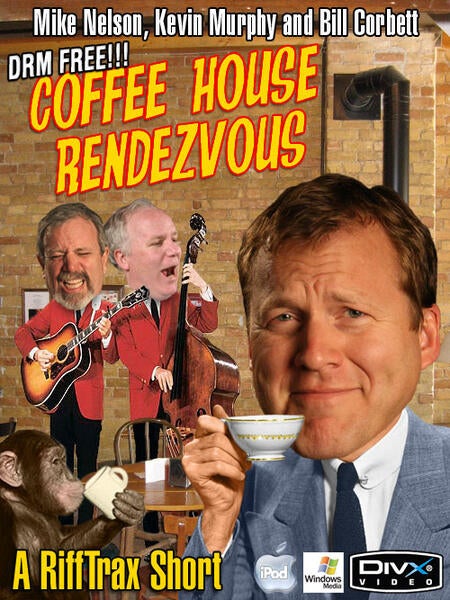 Riffed By